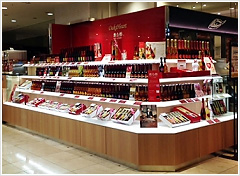 Oaks Heart
Based on the concept "a whole new world of vinegar potential", Oaks Heart is the first brand of shops in Japan that specializes in vinegar, opened in February 2003, We offer a wide range of innovative products called Nomu Su Dessert Vinegar®, which have changed conventional images of vinegar as a seasoning into an exciting health-giving beverage.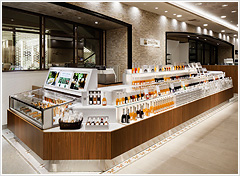 OSUYA GINZA
At our stores with attached cafes, you can enjoy our unique vinegar-inspired offerings such as the fruity vinegar drinks. We also have many innovative items on the menu: ice cream with vinegar topping, various sweets with vinegar, as well as beer and cocktails infused with vinegar. At these shops, you can expand your perception of the diverse flavors possible with vinegar.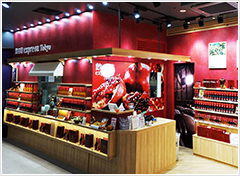 Nomu Su Expre・su Tokyo
In 2007, "Nomu(=Drinking)Su(=Vinegar) expre・su(=Station+Press) Tokyo" was opened as first "vinegar stand bar" in Japan at Tokyo Station. The store was closed in July 2020, but we continue to sell our products on an irregular basis in response to requests. We would like to express our sincere gratitude to everyone who has loved our products. We look forward to your continued support in the future.